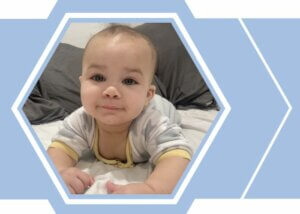 I got pregnant and realized I needed to change my life for my baby and for myself. I was smoking almost a pack a day and using other substances. I got sober and then decided I wanted to quit smoking too for the health of my child and me.
I thought that I could stop smoking by vaping but that didn't work so I went back to cigarettes and then slowly cut down on them until I eventually quit completely. I've noticed that I am able to just take a minute for myself now without having to have that smoke.
I have saved so much money and I've only been quit less than a year! My advice to anybody trying or struggling to quit is to just keep trying. Don't give up. And that it is definitely worth all the trouble. And the sense of accomplishment you'll get after you quit is unmatched.
Cambia Mi Vida
Me quedé embarazada y me di cuenta de que necesité cambiar mi vida para mi bebé y mi misma. Estaba fumando casi una cajetilla cada día y usando otras sustancias. Me puse sobria y luego decidí que quería dejar de fumar también para la salud de mi hijo y mi misma.
Pensé que podría dejar de fumar por fumar cigarrillos electrónicos, pero no funcionó así que regresé a cigarrillos y entonces reduje el consumo hasta que eventualmente dejé completamente. He dado cuenta de que puedo tomar un minuto para mí misma ahora sin tener que fumar.
¡He ahorrado tanto dinero y solo me han dejado de fumar naos de un año! Mi consejo a cualquiera tratando o teniendo dificultad dejar es solo sigue intentando. No se rinda. Es definitivamente vale la dificultad. Y la sensación de éxito que obtiene después de dejar es inigualable.