"I started using tobacco (cigarettes) at age 12, and was always a bit of a heavy smoker. I never smoked recreationally, I smoked multiple cigarettes every single day from the very beginning. I also had a significant problem with addiction to opiates from age 17.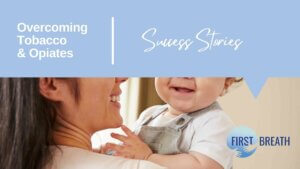 At age 22 I was finally able to quit the opiates, but I continued to smoke cigarettes. I smoked cigarettes through two pregnancies (though I never used opiates during or near my pregnancies). I continued to smoke cigarettes all throughout recovery and found it "helped" me to not have to give up this one addiction. Towards the end of my smoking period I was smoking heavily. I relied on smoking what seemed like every half hour.
I was in First Breath coincidentally at the same time I had a significant life emergency where my son was hospitalized. Between the incentives of the program and the stress of the current situation, I found myself smoking less and less. Eventually the cigarettes started to smell and taste so much worse than they originally did. I had some light cravings for maybe 2 weeks, and some mild withdrawal symptoms. After those initial few cravings though, I haven't had a craving for a cigarette since."
Superar el Tabaco y Opiáceos
"Empecé usar tabaco (cigarrillos) a 12 años y siempre era una fumadora bastante empedernida. Nunca fumaba de manera recreativa. Fumaba varios cigarrillos todos los días desde el principio. También tuve un problema significativo con adicción a los opiáceos de los 17 años.  
A los 22 años finalmente pude dejar los opiáceos, pero continuaba fumar cigarrillos. Fumaba cigarrillos durante dos embarazos (aunque nunca usé opiáceos durante o cerca de mis embarazos). Seguí fumar cigarrillos durante toda la recuperación y sentía que me "ayudaba" a no tener que renunciar a esta única adicción. Hacia el final de mi período de fumar, estaba fumando mucho. Dependía de fumar lo que parecía ser cada media hora.  
 Coincidentemente, estaba en el programa First Breath al mismo tiempo que tuve una emergencia significativa en mi vida, donde mi hijo fue hospitalizado. Entre los incentivos del programa y el estrés de la situación, me encontré fumar cada vez menos. Con el tiempo, los cigarrillos empezaron a oler y saber mucho peor que al principio. Tuve algunos antojos leves durante quizás 2 semanas y algunos síntomas leves de abstinencia. Después de esos pocos antojos iniciales no he tenido antojo por un cigarrillo desde entones. "