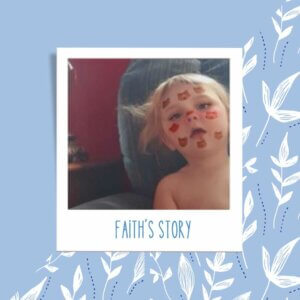 "I have tried to stop smoking for years and years and didn't know what to do so when I had a WIC appointment and my worker advised me to a quit smoking program (First Breath). I started texting and having conversations with one of the quit coaches that help you quit smoking.
One day I just decided to take her advice and I went cold turkey and I have been since the first of March. I only had one cigarette and it tasted and smelt so gross that I couldn't believe that I was smoking them in the first place. And still have not had one. I'm so happy with myself and my partner because he quit smoking with me and for our children.
We quit smoking and we feel more energy, and happier, things taste different/better and now that we have more money that we're not spending on cigarettes we can spend as a family doing things and going places. We are a lot happier now."
Faith's Historia
"He intentado de dejar de fumar por años y años y no sabía qué hacer, así que cuando tuve una cita de WIC y mi trabajador me avisó a un programa de dejar de fumar empecé textear y tener conversaciones con una de la entrenadora de dejar de fumar quien ayudó a dejar de fumar.
Un día decidí de aceptar su consejo y dejé de golpe y desde el primero de marzo he sido así y solo tuve un cigarrillo y su sabor y olor fueron tan desagradable que no podía creer que alguna vez los haya fumado. Y todavía no he fumado uno. Estoy tan feliz con mi misma y mi compañero porque el dejó de fumar con mi y para nuestros hijos.
Dejamos de fumar y nos sentimos más energía, estamos más felices, cosas tienen sabor diferente/mejor. Y ahora tenemos más energía que no estamos gastando por cigarrillos, y podemos gastarlo como una familia haciendo cosas y yendo lugares. Ahora estamos más felices."