When I went in to have my son was the last day I smoked a cigarette.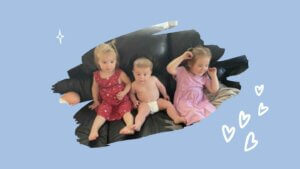 I went in for a routine c section and then ended up being cut open again only a week later and in between both surgeries I was in a lot of pain and that helped me quit. But I also didn't want to feel like crap again because I know after that first cigarette I would highly regret it. I know I could just not smoke another and be done, it wouldn't be the end of the world but I figured I would start my journey and seriously quit.
I feel like I can breathe deeper and I'm not coughing in the morning and my chest doesn't feel tight or burn. Every day it gets a little easier and I hope one day I can go a full day without thinking about it. First Breath's texts and check in calls really did help, someone to talk to was nice.
"Cuando fui a tener a mijo era el último día que fume un cigarrillo, fui por una cesárea rutina y termine con otra cirugía ni una semana después y tuve mucho dolor con las dos cirugías y eso me ayudo a dejar de fumar. No quiera sentir como basura otra vez sabiendo que estaré arrepentida por no puedo fumar solo uno. No sería el fin del mundo, pero quería empezar mi jornada y verdaderamente dejar de fumar.
Me siento como puedo respirar más profundamente y no tengo tos por las mañanas y mi pecho no se siente apretado. Cada día es un poco más fácil y espero que un día puedo pasar todo el día sin pensar en fumar. Los mensajes de texto y las llamadas de First Breath fueron útiles."